02DIAS CATAMARAN PUNO – ISLA DEL SOL – LA PAZ
RATES 2023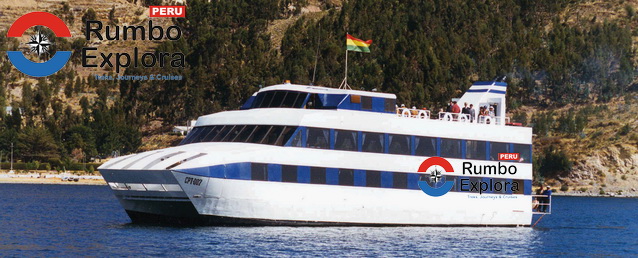 GROUP SERVICE
---
RUMBO EXPLORA have carefully selected the best transport options, with guided visits Catamaran Puno – Sun Island – La Paz, all year around. RUMBO EXPLORA offer you the possibility to make your transport reservation, due that not all transport companies have an automatic booking system. We will confirm your reservation within 24 hours.
02DAYS CATAMARAN PUNO – SUN ISLAND – LA PAZ
(Superior Service)

BY CATAMARAN
INCLUSIONS / EXCLUSIONS

US$405.00 per person

ROUTE: Puno / Copacabana / Sun Island / La Paz
02Days-01Night Catamaran starting in Puno-Peru and ending in La Paz-Bolivia


Inclusions: Early morning 06:00 – 06:30Hrs pick up from your hotel then land transfer Puno-Peru to Copacabana-Bolivia, catamaran Copacabana – Sun Island + accommodation & all meals, english-spanish speaking guide, entrance fees, visit south side of sun island and intiwata cultural complex, sailing on the traditional reed vessel, catamaran to Chua port and return land transfer from Chua port to La Paz-Bolivia. In the evening around 19:00Hrs arrival in La Paz and transfer to the hotel.
Exclusions: Drinks, extras, tips and others not included in the program

DAY 01: P

ick up time from hotel:

 6:00 – 6:30am (Peruvian time). Then land transport to Copacabana 

+ stop at Migrations Office


Arrival in Copacabana:

10:30am (Bolivian time)


Catamaran to Sun Island:

11:00am (Bolivian time) Visit south side of island. Sailing in traditional reed vessel. Lunch on board
Sun Island – Chua port: 14:30pm. Then overnight + dinner on board


Distance Puno – Copacabana:

 143km


Distance Copacabana – Sun Island:

16km


Including stop at Kasani (Migrations Office of Peru & Bolivia)
Distance Sun Island – Chua port: 49km
Distance Chua port – La Paz: 94km


Overnight + dinner on board

DAY 02:

 Breakfast included on board.
Morning: Visit Pariti & kalauta islands / Patapatani community. Lunch included at Catamaran
Afternoon:

 Return to Chua port




Depart Chua port – La Paz:

 17:00pm


Arrival at hotel in La Paz

:

 19:00pm

Places to visit on Sun Island:

 Pilkokaina palace, inca stairs, fountain of youth, intiwata cultural complex (underground museum + largest collection of archaeological & anthropological items, plantations of medicinal herbs & fauna)
Places to visit in minor lake: Pariti island / kalauta island / Patapatani community & local museum

02DAYS PUNO – SUN ISLAND – LA PAZ
Vía Catamaran
DESCRIPTION OF ITINERARY:
DAY 01: PUNO – COPACABANA – SUN ISLAND – CHUA PORT: Early morning between 6:00 – 6:30am a guide and driver will pick you up from the hotel in Puno (Peru) and then you will be driven to Copacabana (Bolivia) including stop at Kasani (Migrations office of Peru & Bolivia) in order to board the Catamaran to your next destination and that will assist you with boarding and luggage. The town of Copacabana serves as starting point to the islands of the Sun and Moon, located 143 km away from Puno (Peru), 3:00 hour's drive, with a population of 3000 inhabitants. Copacabana comes from two Aymara words, KOTA (lake) and KAHUANA (viewpoint of the lake) for that reason there is an Calvary on the top of the hill, where you will appreciate the shamans or Yatiris – Quechuas and Aimaras amautas who bless to the people. There is a church in Copacabana which was originally of a Moorish style, then Renaissance style which was built between 1601 and 1619 and rebuilt in 1610 and 1651. The image of the Virgin of Copacabana was carved in wood by Tito Yupanqui which has Indian features and very visited by Peruvians and Bolivians. Copacabana is today a center of pilgrimage of thousands of loyal. Then we board the catamaran to visit Sun Island (south side) which is inhabited by indigenous Quechuas and Aimaras, who are cattlemen, farmers and also work making crafts. Sun Island has a length of 9.6 km by 4.6 km wide and covers an area of 14.3 km². It is the biggest island in the lake; its first name was Titicaca Island which means mountain cat stone or puma stone. Then we visit Pilkokaina Palace, unique construction for its characteristics, Yumani is another archaeological site that lead to the top of the island, where exists the Inca Garden, steps and the Inca fountain.  Sun Island has a rugged terrain with many terraces that ancient people have used for cultivation, according the locals the island was the Inca sanctuary with a temple of virgins dedicated to God Inti (the Sun). Continue to the Inti Wata Cultural Complex including the Ekako Underground Museum, the traditional medicine and the Titikaka Reed Shipbuilders display centers, the Pachamama agricultural Inca terraces, a handicraft center, the Intica lounge and at the Manco Kapac look out the largest variety of Andean camelids. Buffet lunch on board. Also, the Inti Wata Complex of Sun Island includes a unique sailing experience aboard a huge Titicaca traditional vessel for a panoramic visit to the Pilkokaina Inca Palace. Catamaran to Chua port. Romantic candle light dinner and overnight on board the Catamaran in lake view cabins with private facilities.
DAY 02: CHUA PORT – PARITI & KALAUTA ISLAND – CHUA PORT – LA PAZ: Buffet breakfast on board. Then we board the Catamaran to Pariti island, where we visit a typical local house that will allow appreciating the real livelihood of aymara people in the highlands. On this island local poeple discovered numerous pieces of fine ceramics dated to tiwanaku culture, such as tigers, monkeys and  much more, which were taken to local museum. Afterwards we continue with our itinerary to Kalauta island, where are located the stone city, one of the biggest necropolis of this area, besides el funeral towers of Kalauta, some of the constructions with 2 and 3 floors. We board the catamaran crossing the large amount of totora reeds. Buffet lunch on board. Then travel by Catamaran to Patapatani community, where visitors have the opportunity to interact with one of the most unspoiled indigenous Titicaca villages through an innovative program organized with local community, sharing their lifestyle, traditions and daily activities. In this community you will participate also in their dances to the sound of typical instruments, including the visit to their own museum, where we will have the opportunity to see the oldest best-preserved andean mummy called "Tani". Finally a return trip by catamaran to Chua port. Land transfer from Chua port to La Paz (Bolivia), a car trip of 2:00 hours. Arrival in La Paz (Bolivia) around 19:00pm, then transfer to the hotel.
---
WHAT IS INCLUDED: Pick-up from hotel in Puno-Peru, land transportation Puno-Copacabana, including stop at Kasani (Migrations Office of Peru & Bolivia), English-Spanish speaking escort guide for 02Days, besides guided visit the church in Copacabana village, insurance premiun US$3.5, embarkation fees US$6.5, Catamaran cruise Copacabana – Sun Island – Copacabana, accommodation + all meals & snack on board, entrance tickets, visit Pilkokaina palace, inca stairs, fountain of youth, intiwata cultural complex (underground museum + largest collection of archaeological & anthropologial items, plantations of medicinal herbs & fauna), reed boat ride, Catamaran Sun Island – Chua port, accommodation + all meals & snack on board, Catamaran to Pariti & Kalauta Islands, Pataparani community, Chua port, land transportation Chua port to La Paz-Bolivia, transfer to hotel. Besides pre-trip information + organization and all local taxes. There are no hidden extras in our prices.
NOT INCLUDED: In Puno-Peru additional charge for pick-up from hotels located out of Puno city, in La Paz-Bolivia  additional charge for drop-off for hotels located in the south area of La Paz city. Drinks, extras, tips.
IMPORTANT: The Catamarans have 20 outside view luxury cabins for 40 passengers as overnight cruiser, velocity of 11 knots + GPS + radio communication + night navigation lights + compass + oxygen & first aid kit + life jackets + toilet + Carpeted floor + panoramic windows + cooler. Our tourist transportation vehicles have nation wide circulation permit and 2 types of insurance (Certificate of Statutory Accident Insurance Transit SOAT, besides has vehicle Insurance Policy to all risks in record) + oxygen & first aid kit + panoramic windows + reclining & confortable seats, exclusive for our demanding customers. Rumbo Explora provide to visitors all possible choices. Beware with illegal local Tour Operators or middleman, who do not pay the real costs to suppliers (transport, local restaurants & guest houses, tour guides & drivers). Help us avoid the explotation.
IMPORTANT NOTE:
You can see that in Rumbo Explora we have developed for you tailor-made itineraries with the best price as competitive as possible, providing an excellent service and paying our guides 10% above the legal wage agreed with the tour guides in Peru. Our staff are some of the best paid in Cusco & Machupicchu, Puno & Lake Titicaca, Arequipa & Colca canyon, Lima and Nazca & Paracas, which allows us to attract only the Best Tour Guides, Motor Boats and Land Transportation with national permit, to none other local company, that can only provide a cheaper price by providing a far inferior service and saving on staff costs, ¿How? Hiring tour guides in training without experience and not paying them, besides avoiding taxes to government.
Big Travel companies from Europe, North America, Australia and others work with the Peruvian Tour Operators located in Lima-Peru, who work as middlemen receiving from them good prices from the Tours & Packages, and paying to us 40 to 50% minor the normal price, besides 2 to 3 months delayed, being this the reason that Rumbo Explora have decided to offer tours & packages directly to travelers.
VISAS / PASSPORTS:



If you travel to Bolivia, visa is not necessary for U.S Citizens and most other nationalities. If you hold a passport from another country, we will send all information necessary otherwise check with your local consulate or embassy about requirements for travel to Bolivia. All passengers traveling internationally are required to have a passport. Please carry proper identification on you and do not leave in your suitcase or hotel room. In most of places like airports, train-bus stations, frontier or at any other check points you must to show passport, because some countries have laws that require you to carry your passport with you at all times and anywhere. If you are in any doubt please contact the nearest Bolivian Embassy.