HAYUMARCA + FERTILITY TEMPLE 01DAY
Private Tour
RATES 2023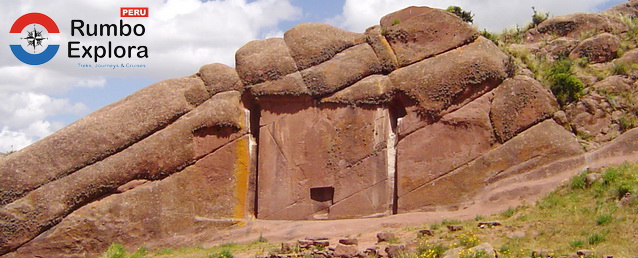 PRIVATE SERVICES
---
RUMBO EXPLORA have carefully selected the best transport options, with guided visits to Hayumarca doorway + Fertility temple & colonial churches, all year around. RUMBO EXPLORA offer you the possibility to make your transport reservation, due that not all transport companies have an automatic booking system. We will confirm your reservation within 24 hours.
HAYUMARCA DOORWAY + FERTILITY TEMPLE 01DAY
Private Tour

PRICE PER PERSON

INCLUSIONS & EXCLUSIONS

US$76.00 (based on 02 persons)
Inclusions: Private luxury tourist transportation, english-spanish speaking guide, entrance fees in Chucuito village (fertility temple), Aramu muro (door way), Juli & Pomata villages (colonial churches). Note: If you wish, we can arrange local chaman for offering at Hayumarca doorway.
Exclusions: Box-lunch, drinks, extras, tips.
US$54.00 (based on 03 persons)
US$45.00 (based on 04 persons)
US$45.00 (based on 05 persons)
On request 06 persons up
Suggested Departure: 8:00am. Including stops at Chucuito village (fertility temple), Hayumarca doorway, colonial churches of Juli & Pomata
Distance: 105km (one way from Puno to Pomata village)
Suggested return in Puno: 16:00pm.
Time of travel: 8:00 hours (round trip)
HAYUMARCA DOORWAY + FERTILITY TEMPLE 01DAY
Private Tour
DESCRIPTION OF ITINERARY:
DAY 01: TOUR ROUTE OF CHURCHES + HAYUMARCA: Chucuito is located 18 km away south of Puno, 20 minutes drive, on the road connecting to Bolivia, this town is known as the city of the royal boxes because it was paid the taxes here in colonial times, those taxes came from the silver mines of Laykakota, Puno – Peru, in that time this mine was comparable only with the mine of Potosi – Bolivia. Visit the temple of fertility called "Inca uyu" formerly called Temple of the Sun (Inca). In the main square lies a sundial worked in alabaster stone dating from 1610, rebuilt in 1825. Chucuito has 02 squares, in one of them is located the church of Santo Domingo and in the other one the church Our Lady of Assumption. In this town existed a jail, which you could still see its construction in all its originality. In addition Chucuito has a fish farm (an experimental center of the National University of Altiplano). Hayumarca or Aramu Muro: Also known as Wilca Uta, located 75 km away from Puno, in the place called Altarani, 01:20 hour drive, on the route connecting to Bolivia. Aramu Muro is a rock where a door is carved in low relief, the legend says that Aramu a god pre Inca would have disappeared in this door carved in stone (jayu marka = city of spirits) taking with him a solar disk of the Lemurias, for not to be stolen by the conquerors. This place is very mysterious, local people say there is spirits hovering around the door and the zone is energetic, so perhaps it is more visited. Juli: Colonial town, located 79 km away from Puno, 01:30 hour drive, on route connecting to Bolivia. Juli is known as the little Rome of America, because here came the first missionaries (Dominicans) in 1539, but Juli was part of the kingdom of Lupacas, where was established doctrines to evangelize to the people, so was built churches by Dominicans and Jesuits like those of Rome in Italy. Juli was founded by the Jesuits in 1565 and it had a population of 14,000 people, currently it has 4 churches with similar names that in Rome (Italy) such as Saint Peter, Saint Cross, Our Lady of the Assumption and Saint John of Lateran, the history says that each church had its own population, in other words it was forbidden to attend other neighboring churches. The Dominicans left the town of Juli in 1574, and then the Spanish brought a splinter of the cross of Jesus and also a printing press (1583) considered the second in America (after Mexico), to print books in 3 languages Quechua, Aimara and Castilian. The windows of the churches of Juli are made of stone alabaster, as this type of stone catches the light. Pomata: Colonial town located 105 km away from Puno, 02:00 hours drive, founded by the Spanish in 1534, now known as the balcony philosophical of the high plateau, from where one has a spectacular view of Lake Titicaca. In 1540 was built the chapel of Santa Barbara at the foot of Calvary Hill, and in 1576 the colonial church of Saint James Apostle, the style is Baroque built in brownstones of the area, in the church of Saint James Apostle lies underground catacombs where are the remains of bishops of this area. The first settlers call Puma Uta to this city, and would later be called Pomata by the Spanish. Then a return trip to Puno.
---
WHAT IS INCLUDED: Round trip private tourist transportation, English-Spanish speaking guide for 01Day, entrance fees to Fertility temple in Chucuito, Hayumarca doorway, colonial churches of Juli & Pomata villages. Besides pre-trip information + organization and all local taxes. There are no hidden extras in our prices.
NOT INCLUDED: Drinks, extras, tips. Additional cost for box-lunch.
IMPORTANT: Our tourist transportation vehicles have nation wide circulation permit and 2 types of insurance (Certificate of Statutory Accident Insurance Transit SOAT, besides has vehicle Insurance Policy to all risks in record), comfortable seats + oxygen & first aid kit + panoramic windows + reclining seats + telephone charger, exclusive for our demanding customers. Rumbo Explora provide to visitors all possible choices. Beware with illegal local Tour Operators or middleman, who do not pay the real costs to suppliers (transport, local restaurants & guest houses, tour guides & drivers). Help us avoid the explotation.
ADDITIONAL INFORMATION

BY RUMBO EXPLORA
OTHER LOCAL OPERATORS
Technical specifications: Our modern & new tourist transportation vehicles: Hyundai (5 seats), Mercedes Benz & Renault (10 to 19 seats), Minibus (25 to 30 seats), Buses (40 seats)
Technical specifications: Few tour operators work with good tourist transportation vehicles as: Mercedes Benz & Renault (10 to 19 seats), Minibus (25 to 30 seats), Buses (40 seats)
First Aid Kit & Services:

Oxygen & first aid kit, telephone charger and maps of Colca valley, which led us to be one of the best tour operators in the southern Perú.

First Aid Kit & Services:

 Few tour operators provide this service.

Insurance policy: Our tourist transportation vehicles have national permit circulation and 2 types of insurance (Certificate of Statutory Accident Insurance Transit SOAT, besides has vehicle Insurance Policy to all risks in record)
Insurance policy: Most of tour operators work with vehicles which have local permits only.
Tours guides: We put at your disposal the most qualified staff of tourist guides, with degree of the Institute (3 years) or University (5 years) and certified from the language center of the university and Peruvian-American Cultural Center (US Embassy) with a high level of English.
Tours guides: Some travel agencies in Arequipa are not paying their guides and drivers, hiring them without experience. We are sure that you will be forced to buy souvenirs during the journeys with higher prices, and the guides will try living of their commissions, which can be a bad experience for you. ¡Be aware!
IMPORTANT NOTE:
You can see that in Rumbo Explora we have developed for you tailor-made itineraries with the best price as competitive as possible, providing an excellent service and paying our guides 10% above the legal wage agreed with association of the tour guides – Puno. Our staff are some of the best paid in Puno & Lake Titicaca, which allows us to attract only the Best Tour Guides, Motor Boats and Land Transportation with national permit, to none other local company, that can only provide a cheaper price by providing a far inferior service and saving on staff costs, ¿How? Hiring tour guides in training without experience and not paying them, besides avoiding taxes to government.
Big Travel companies from Europe, North America, Australia and others work with the Peruvian Tour Operators located in Lima-Peru, who work as middlemen receiving from them good prices from the Tours & Packages, and paying to us 40 to 50% minor the normal price, besides 2 to 3 months delayed, being this the reason that Rumbo Explora have decided to offer tours & packages directly to travelers.